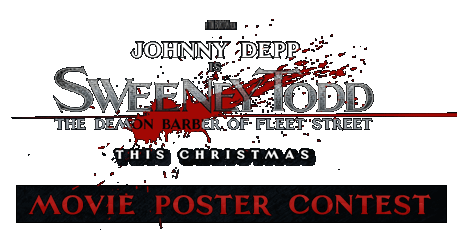 deviantART, Tim Burton, Johnny Depp, Sweeney Todd. What more could you want in one sentence? How about poster contest? That's right, deviantART is happy to present the Sweeney Todd Poster Contest for the upcoming movie, in theatres December 21st.
Sweeney Todd once again sees the long time duo of Tim Burton and Johnny Depp working together again, with Helena Bonham Carter, Alan Rickman, Sacha Baron Cohen and many others in this interpretation of Stephen Sondheim's critically acclaimed and award winning musical, Sweeney Todd.
It is the imaginative tale of a man sent to prison for crimes he didn't commit, who seeks ultimate revenge upon release for the tragic events that befell his wife and daughter while incarcerated. He becomes the Demon Barber of Fleet Street who "shaved the heads of gentlemen who never thereafter were heard from again."
And what better community to reinvent the movie poster for this wickedly delightful movie than this one? So how does one go about cutting into this with gleeful abandon, sharpened shears at the ready?
Read on!
The Contest
deviantART, DreamWorks and Warner Bros. Entertainment are proud to bring you the Sweeney Todd Movie Poster Contest! Grab your finest razor and your sharpest shears and give your own unique trim to a movie poster of your own design using your own original work or the creative resources supplied below!
The Rules
Adhere to the guidelines below:
You must be 18 or older and a resident of the US to participate
Only JPG images in RGB colour will be accepted (not CMYK);
You may submit more than one entry;
Online entries only, hardcopies not accepted;
Original file size must be able to be printed at 20×30 which is a minimum file size of 3000×4500 pixels (at 1.50:1 aspect ratio - see FAQ #132 for more information); You need not upload the full size file to enter in the contest, you simply need to have it available if you win.
The design must be 100% your work;
No copyrighted images can be used in any way except for the creative resources linked below.
Retain your hi-resolution version of the design as it will be required to produce the final artwork should you be the Selected Entrant.
Please see this page for additional rules.
Creative Resources
You can
download resource images
(~80MB ZIP file) directly from the movie to use in your work.
Submission
Submit your entries to:
Submit: Community Projects > Contests > 2007 > Sweeny Todd Poster Contest
Browse current submissions at:
Community Projects > Contests > 2007 > Sweeny Todd Poster Contest
Deadline
The deadline for Submissions is December 11th Midnight PST and winners will be announced December 14th!
The Prizes
1st Prize - Wacom Graphire Bluetooth CTE630BT - 6×8 Tablet with Pen and Mouse with Bluetooth technology for up to 30 feet of wireless freedom.
2nd Prize - Apple iPod nano 4GB - Silver MA978LL/A
3rd Prize - Logitech MX 620 Cordless Laser Mouse with USB Wireless Receiver 910-000240
There will also be various prizes from the movie itself to be announced upon contest closing!
Judges
Contest entrants will be judged and given appropriate haircuts by $lolly, $realitysquared, $hexentanz, $ewm, and $y2jenn.
Addendum
The studio will retain the option to print or use the winning entry, and as such, the winning entry will become the property of DreamWorks and Warner Bros. Entertainment for promotional purposes.